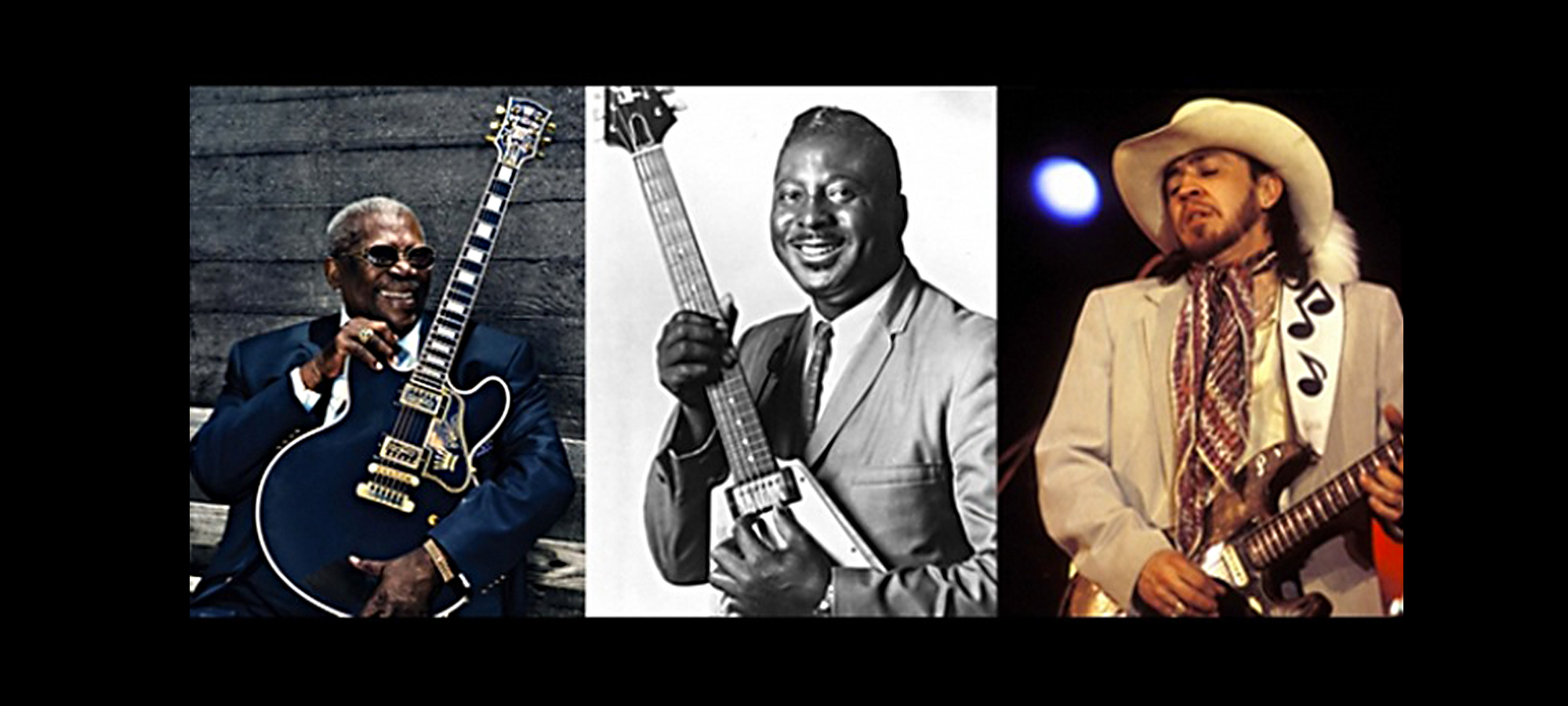 Guitarists love the ladies, especially those with long necks, shapely bodies, and melodic voices.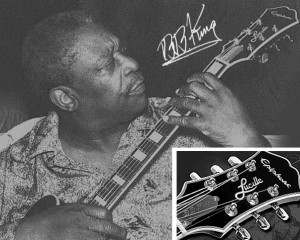 First, there's the case of blues legend B.B. King and his girl Lucille. One night in 1949 he was playing at a club in Twist, Arkansas. Two men fighting over a woman kicked over a barrel half filled with kerosene, setting the room on fire. The club was evacuated, and once outside, B.B. realized that his $30 Gibson guitar was still in the building. He quickly ran into the flaming club to retrieve it. Later, he learned that the two men were arguing over a woman named Lucille. Several people died in the blaze, but B.B. and his guitar made it out safely.
He named that instrument, and all that followed – including various Gibsons and Telecasters – Lucille, in gratitude for his survival. In 1980, Gibson began manufacturing the B.B. King signature "Lucille" model.
Albert King was a giant of a man, musically and physically. When the 6'4″ left-handed bluesman released his first record in 1953, newspapers began calling him "B. B. King's brother." This inspired the man born Albert King Nelson to drop his surname, sometimes referring to himself as B.B., for "Blues Boy." Is it any wonder he named his guitar Lucy, in honor of his idol's Lucille?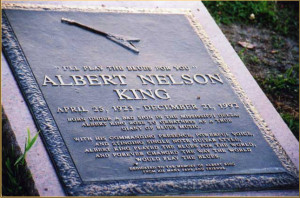 Lucy was a 1958 Gibson Korina Flying V guitar, and Mr. King is considered its master player. In fact, he's so closely associated with the instrument that his tombstone in Arkansas is engraved with an image of a Flying V. The now-deceased musical pioneer is considered one of the "Three Kings of the Blues Guitar" (along with B.B. King and Freddie King).
Dallas-born blues rock phenomenon Stevie Ray Vaughan began playing guitar at age 7. He died in 1990 at age 35 in a helicopter crash, but during his short life he produced a body of work that was virtually unparalleled. Allmusic's Stephen Thomas Erlewine described Stevie Ray's playing as "a uniquely eclectic and fiery style that sounded like no other guitarist, regardless of genre."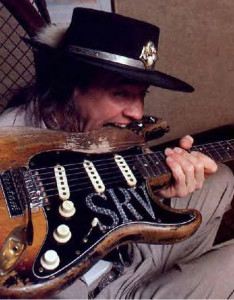 Stevie Ray called his favorite guitar – a 1963 Fender Stratocaster – Number One, but it was also known as his "First Wife" because it was his constant companion. He named his second Strat after his wife Lenny. But he treasured that First Wife most of all. He used it throughout his entire career, playing it with such intensity that its beautiful body was battered and bruised. Love hurts, as they say.
Legendary musicians loving legendary guitars. Ah, doesn't that just tug at your heartstrings!
Here are Albert King and Stevie Ray paying homage to Albert's guitar with "I Love Lucy."

© Dana Spiardi, Feb 5, 2014